Première of a new website: YOU COSMETICS!
Première of a new website: YOU COSMETICS! We have decided to begin the year 2020 with a new website, so we are launching the change of decade with a renovated image. At YOU Cosmetics, we are growing, and in the same spirit of expansion that has accompanied us since our beginnings, we are taking one step more and expanding our digital presence.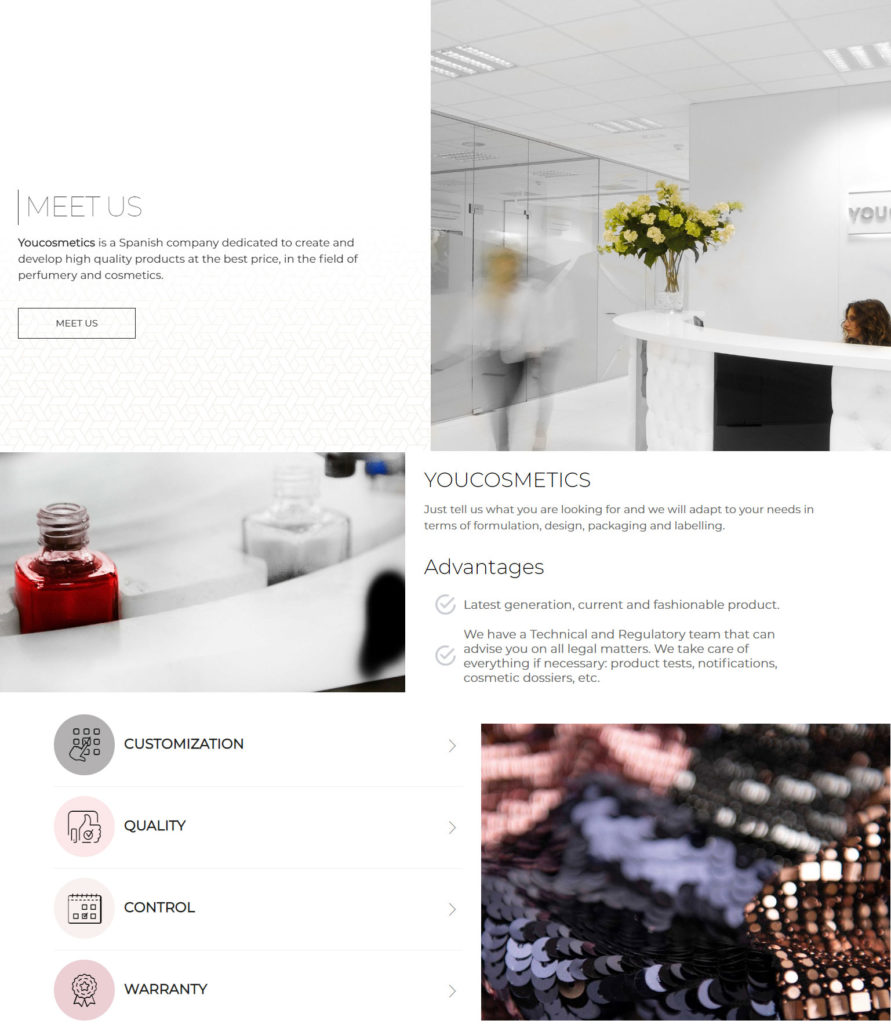 As cosmetic product manufacturers and B2B partners to companies, designers and professionals from the cosmetics and perfume sector, we were considering improvements on our new website. In structuring it, we have taken account of the needs of our clients and market demands, creating a website that combines tendencies, quality and product customising. For the purpose, we rely on an R+D department that continously searches for new formulas, our marketing team and our creativity … We are ever on the go in the search for new tendencies!
YOU Cosmetics is a family business that has become one of the leading Spanish companies in creating quality cosmetic sector products with enthusiasm and spirit. Continued growth towards new domestic and foreign markets testifies to our good practices, and as a result of this process, we want to be nearer to those who have trusted us and who seek quality cosmetic products to support their brands. In this new stage, we wanted to focus on our services as "private label" partners and better explain how we work with our clients to design their own product lines.
As the outcome of all this work that we have invested in these last few months, we have created a more intuitive website with an attractive, updated design that provides all the information required by companies seeking to create their own line of high-quality cosmetic products. Since at YOU Cosmetics, we are continually creating new products and designs, it was needful to create a dynamic and updated website to present out team and our innovations.
YOU Cosmetics on the social networks
Living in a 20th-century world means being present on the social networks, and we wanted to be closer to our clients and end users. As an innovating company, we are interested in learning the needs of our clients, market tendencies and end user preferences. We are giving social networks a higher value by integrating them into our website to provide valuable contents and learn your opinions. We have expanded all the specific information on our product catalogue: nail polish, brushes, make-up kits and hair accessories. Everything is organised and explained in detail for a better acquaintance with the product we develop exclusively for companies, brands and hypermarkets.
You are the people creating the sense behind our company and the products we create, because our greater satisfaction is the satisfaction of those who trust us in choosing us as their private label partners. For this reason – because we are proud of our clients – we want to dedicate a space on our website to mention those clients who have chosen us to create their product lines.
To all those who already trust us and those intending to, we await your visit to our virtual venue and hope you find what you are looking for there.